SWIM TRUNKS EMBLEM
The Mile Swim, BSA Patch is NOT worn on the Uniform.
It is worn on the left side of the swim trunks.
Earned by Scouts BSA members, Venturers, Sea Scouts, and Explorers, and adult leaders in these programs.
Note: This award can also be earned and worn by adults.
---
Explain how regular exercise contributes to good health and why swimming is one of the best forms of exercise.
Tell what precautions and procedures a swimmer and escort must follow for distance swimming over open water.
Under the supervision of a currently qualified certified aquatics instructor, BSA or equivalent, participate in 4 hours of training and preparation for distance swimming (1 hour a day maximum).
Swim 1 mile over a measured course that has been approved by the trained instructor who will supervise the swim.
In addition to the Patch shown at the top of this page, the wallet card ( No. 34246) shown below, is available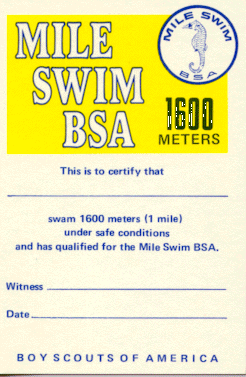 Source: Boy Scout Requirements 2019